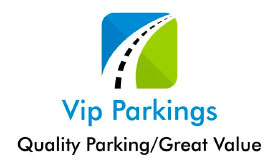 VIP PARKINGS - Valet - Covered - Los Angeles
VIP PARKINGS - Valet - Covered - Los Angeles scores on average 8/10 based on 19000 customer reviews.10
Essentials
Opening times:

Estimated journey time to airport: The shuttle usually takes 15-20 minutes.

Bus frequency:

Distance from airport: 0.9 miles to LAX

Your keys will stay with the parking lot whilst you are away.
Overview
VIP PARKINGS offers a great service for those wanting to park near the LAX airport. This lot offers valet style parking for reasonable rates and have been in the parking industry for over 10 years. VIP PARKINGS wants their customers to feel safe, their lots are protected 24/7 with both video surveillance and security personal.
Why Book This Parking Space?
Secure valet parking service at Los Angeles International Airport

A high quality parking service near Los Angeles International Airport

VIP PARKINGS will park your car for you with this valet service
Disabled Info
No information available
Additional Info
Please take reservation proof with you on your day of travel.
On Arrival
FOR HELP REACHING THE LOT PLEASE SEE THE IMAGES ON THIS PAGE TO HELP GUIDE YOU! Upon arrival at the facility, park your vehicle at the VALET check-in area and proceed to the podium with your Reservation Receipt and car keys. The friendly staff will be available to check you in and give you a valet stub which you will need in order to retrieve your car upon your return. Hop into one of the available shuttles and inform the driver as to what terminal you want to be dropped off at, and you are on your way! Please Note Additional $2.00 to a $ 4.00 a day fee applies to extra-large or long vehicles. Camper vans and vehicles with trailers are subject to call for availability before making any reservation.****** Please keep in mind this facility is NOT 24/7 as of this moment.  Please consider the shuttle hours for your parking needs! The shuttle is only available from 5:00 AM - 10:30 PM, 7 days a week, SHUTTLE DOES NOT OPERATE AFTER 10:30 pm or before 5:00 AM ****** DUE TO COVID-19 PLEASE BE PREPARED FOR POSSIBLE LONGER WAIT TIMES OR HOUR OF OPERATION CHANGES. 
On Return
After retrieving your luggage and being curbside AT DEPARTURE  LEVEL, please call VIP PARKINGS at 1-424-800-2045 to arrange pick-up.
Sat Nav Info
5218 W 104th St Los Angeles California 90045
Map