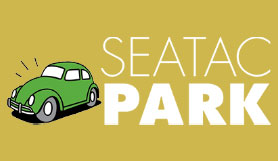 SeaTac Park - Self Park - Uncovered - Seattle
SeaTac Park - Self Park - Uncovered - Seattle scores on average 8/10 based on 19000 customer reviews.10
Essentials
Opening times: Operation 24 Hours 7 days a week

Estimated journey time to airport: Free shuttle service is provided 24 hours a day.

Bus frequency: The shuttle service is available 24/7

Distance from airport: 1.5 miles to SEA

Choose your own spot, park your own car and keep your keys. Relax in the airport knowing that while you're away your car will remain exactly where you left it.
Overview
Located only 1.5 miles from the airport, SeaTac Park is a safe, convenient option for off-site parking. The secure, fenced lot is well-lit and has multiple security cameras with 24-hour surveillance. Continuous shuttles circle the lot and pick passengers up at their vehicles. Courteous drivers will assist with luggage, as needed.
Why Book This Parking Space?
Top class security - your car will be safe and secure

Fast, secure and reliable service

Uncovered self parking for Seattle-Tacoma International Airport
Additional Info
Operation 24 Hours 7 days a week

Shuttle 24 Hours 7 days a week

Handicap
On Arrival
Please arrive at least 15 minutes before you want to be at your terminal. Staff members or signs will direct you to available parking. Shuttle bus will pick you up at your vehicle.
On Return
When you return, call the phone number on your claim check number for immediate pickup. Please provide a copy of your Reservation Receipt on exit.
Sat Nav Info
2701 S. 200th Street
Seattle
Washington
98198
Map